Little's Play Zones
Need some family time-out? Little Fun World is an Indoor play centre for Kids. It is designed for kids to have unlimited fun by helping them use their imagination and creativity!
Little's Birthday Party!
A Party that's Out of this World! Book your child's birthday party with us and we will make it our mission to ensure that it's a very special event with fun activities for your little one and friends.
Little World Cafe
Enjoy home made food at our Cafe! Recharge your batteries with our tasty and freshly made hot meals for all the family. Enjoy a tea, coffee or cakes and ice cream to energize you!
Play Zone Rules
Little Fun World is a safe, clean, comfortable place to play. Learn more about our play zone rules & guidelines below;
The following provides an outline of our basic conditions of entry. The purpose of these guidelines is to ensure all our children and adults feel comfortable and safe while enjoying our premises.
Little Fun World play equipment and structures cater for children up to 12 years of age only
0 to 3 years in Infant & Toddlers Zone and 3+ years are allowed only in the Junior Zones
Running is part of play but it can be a hazard; Please ensure your children do not run inside our premises
When children are using the slide they must go down feet first, please do not allow your children to jump or push from the top. Where possible, do not allow your children to climb back up the slid
Smoking and the consumption of alcohol are prohibited at all times
Staff are trained in playground supervision but provide general supervision only. Active supervision of your children is recommended at all times
Any child found left on the premises without a guardian will be handed over to the appropriate authorities without exception
Little Fun World accepts no responsibly for injuries, nor will it entertain any claims for damages, resulting from the use of the Play Zones
Although we take the utmost care to supply a safe and secure environment for all children to play, the ultimate responsibility for those children remains that of their parent or caregiver
Little Fun World has play supervisors monitoring the play zones at all times to ensure the safety of our visitors. However, there are always risks inherent in children playing together. As such, children remain the responsibility of their parents/caretakers and must be supervised closely by them.
Little Fun World cannot be held responsible for any accidents or injuries that may occur due to carelessness or negligence on the part of visitors.
Children can use the facility only when accompanied by a responsible adult (over the age of 18 yrs.)
2 accompanying adult per child may enter the facility free of charge. There will be an extra charge for each additional adult.
The Junior Zone is for children aged 3 to 12, but 3 to 5 year olds must be supervised at all times. Children above the age of 12 yrs. are not permitted to play on the play structure.
Children playing must wear socks at all times for health and safety reasons. Please do not wear shoes or play in bare feet when using our equipment or you will be asked to exit the playground. Socks are available for purchase.
All adults using our play equipment and to enter the indoor play ground while accompanying kids must wear socks
To minimize any risk of personal injury, children are encouraged to wear trousers or leggings.
Children may be asked to leave the play zones if they are found misbehaving, bullying others or not observing the rules.
Strictly no food or drinks allowed in any of the play zones.
Please do not visit Little Fun World  if you or your child has experienced vomiting or diarrhea in the last 48 – 72 hours and Children who are unwell are advised not to use the play zones.
Only food and drink purchased at the Funky Monkeys Cafe can be consumed on the premises (with the exception of infant food and childrens water bottles).
Little Fun World reserves the right to deny access or remove anyone from the premises, especially in the event of aggressive/violent behavior to other guests or to the staff. Any damages caused through bad behavior and misuse will be charged to the guest/member.
Management bears no responsibility for any lost, stolen or damaged personal property.
Have Fun !
Buy Ticket Online
Little Fun World feature unique and exciting play for children in an indoor, clean, safe and supervised environment. We are open seven days a week (including most Public Holidays) where we welcome little ones aged between 6 months to 12 years without any reservation: Sunday to Saturday from 10am – 8pm*. Children between these ages pay to enter, must wear socks, and can stay as long as they like.
Accompanying Adults with infants, toddlers and juniors can enter for free (max 2) if they are not using the play zones.
Little Fun World Play Zones
Little Fun World is a fantastic indoor play centre, that's suitable for all ages! There are huge slides, rope walk ways, fireman's poles, web climber, tumble towers, up and overs pads, bish bash bags..... the list goes on and on! What sets Little Fun World apart from the rest is that it really is suitable for all ages. We have a dedicated infants and toddlers area, that's a mini play zone just for the under 3years. We positively encourage all ages over 3 years to have a go in the main play area. As well as being open all day every day for complete family fun and entertainment.
Little Fun World really is something different!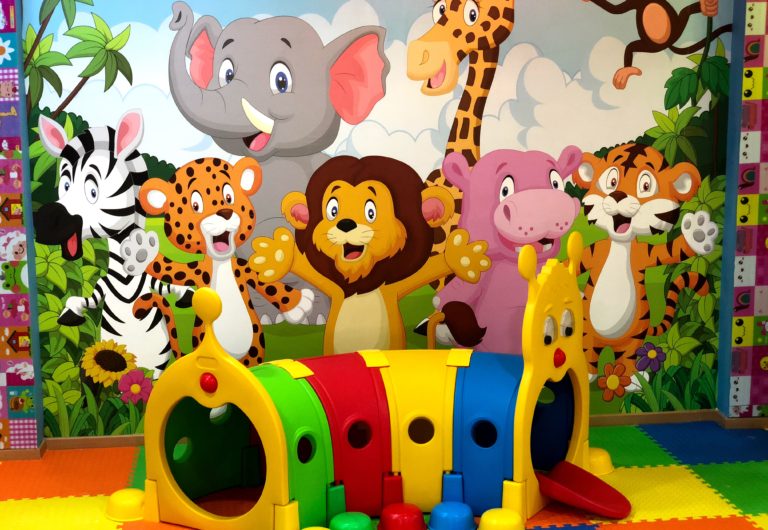 Our infant world play zone is ideal for our younger guests. With the high lockable gate, padded walls and soft play items, your baby can enjoy hours of fun and […]
Our Toddler World play zone is ideal for our younger guests between 1 year to 3 years. This area is gated and fenced and close to our Baby & Toddler […]
Our Junior World play zone is ideal for little juniors between 3 year to 12 years. All levels are accessible for children and which provides easy access for parents and […]